100% Free, Forever
The only online booking solution

built for lawyers.
Book clients online, get paid with your existing LawPay account. 100% Free Forever.
No credit card required. 100% Free Forever.
Online booking built for the law.
Lawyers and yoga instructors have different security and payments needs. Your scheduler should be built for your business, not one-size-fits-all. ClientRock works with LawPay and keeps your client data secure using bank level encryption at multiple layers.
What does that look like?
Charge for consultations with LawPay
ClientRock Scheduler is the only online booking tool that allows you to charge for consultations using LawPay. Don't get into hot water co-mingling funds with other scheduling providers.
Credit card or ACH

Just like with LawPay, you can charge for your consultations using credit cards or ACH.

Connect with one click.

It only takes seconds to hook up your LawPay account and start taking consultation fees.

Easily issue refunds if needed

Sometimes you cancel a meeting because you know you can't take a client, either because there's a conflict or they're just a bad fit. You can cancel the appointment and refund the client in one click.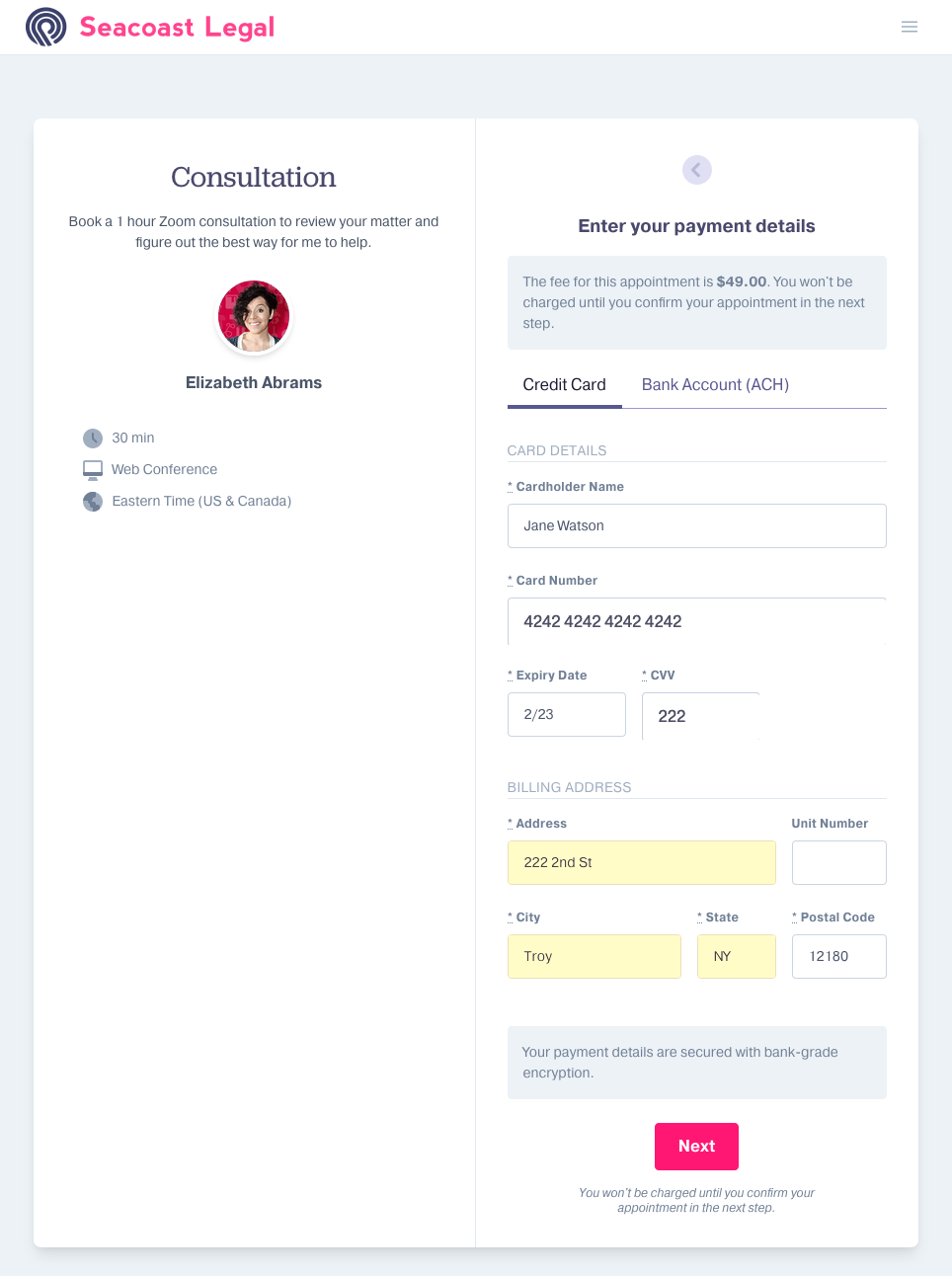 Securely collect documents, answer pre-meeting questions
It's always good to have some context when you walk into your consultations. ClientRock can request documents and ask pertinent questions during the booking process so that you walk into those consultations prepared and ready to make a great first impression.
Never walk into a meeting unprepared again!

The days of walking into a client consult only to find out you have a conflict or your practice doesn't deal in the client's matter are over.

Nail your first impression

When your client books through ClientRock you can collect all of the information you need up front to wow prospective clients with a substantive conversation. Show them you really understand their situation by walking in ready to meet their needs.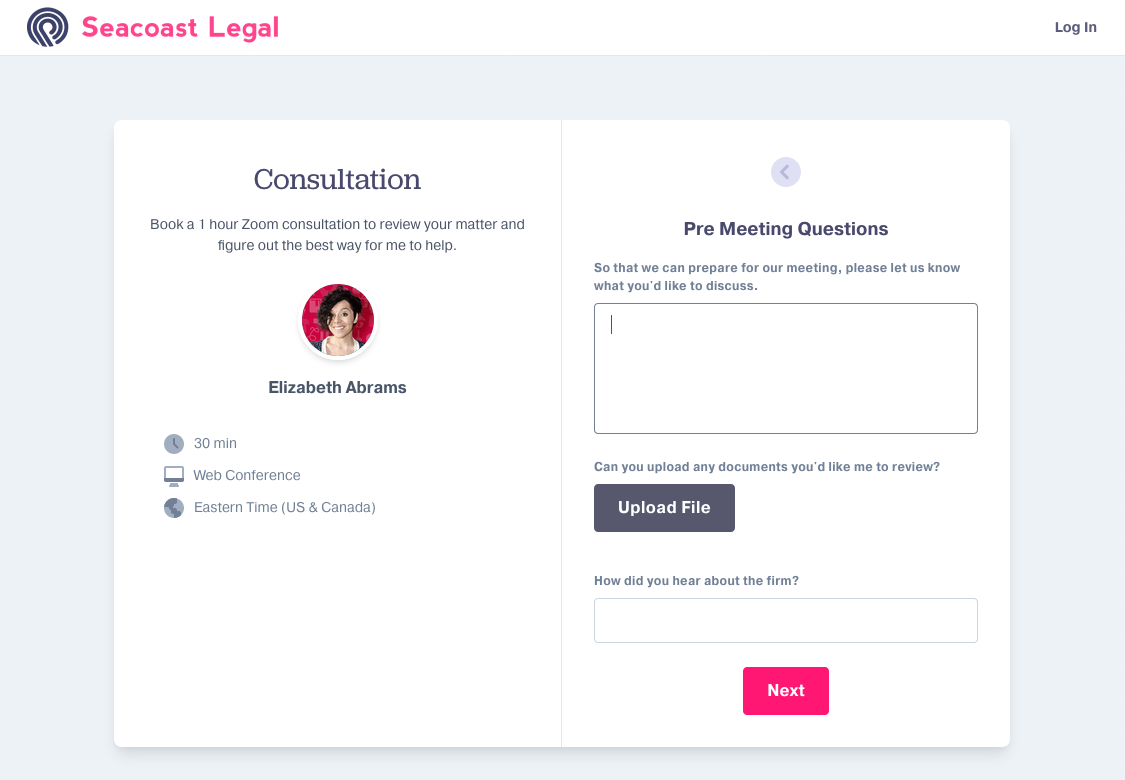 Online booking sets your firm apart
Consumers have grown to expect online self-service as an option and given the choice between a firm they can book immediately and one they have to call to work out a time, most will choose the firm that lets them book online.
Mobile lovely

Our booking pages are designed with mobile clients in mind, and we make that experience as delightful as it is on a desktop. Wherever your client is, we want them to be able to book with you in a flash, and feel great while doing it.

Reduce no-shows with automatic reminders

There's noting worse than showing up for a meeting and waiting, 5, 10, 15 minutes only for the client to ghost you. ClientRock gently reminds your clients with directions for their upcoming meeting and gives them a simple way to reschedule if things get in the way.

Book multi-member-meetings

Want to let clients book meetings with multiple attendees? We can handle that no problem. We'll make sure it's booked to both of your calendars and based on your shared availability.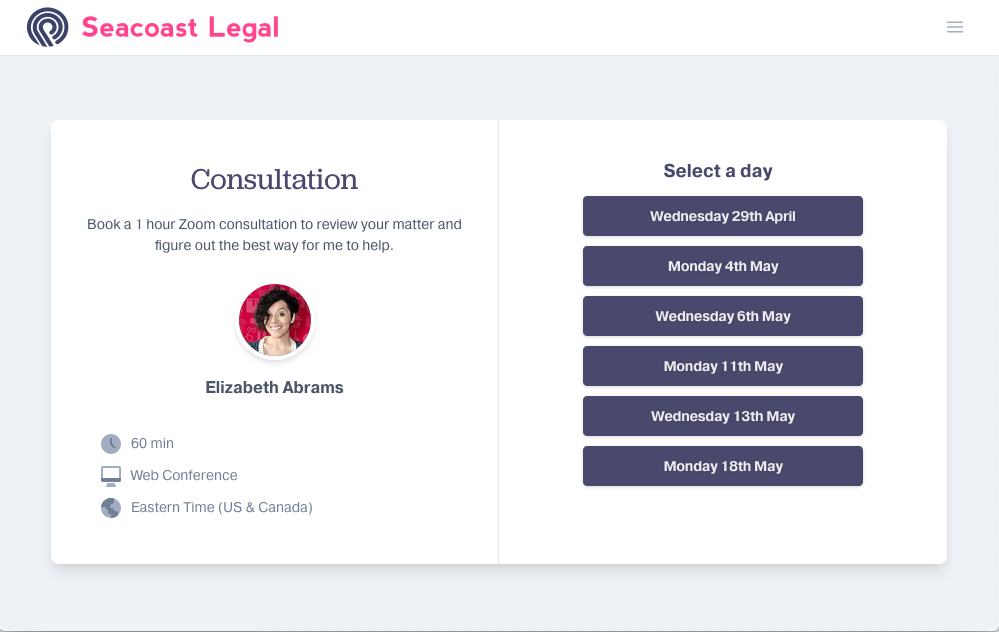 Take control and customize your availability
Connect your calendars and let ClientRock's scheduling engine determine when you're available for appointments and avoid dreaded double-bookings.
Customize by person and meeting type

Sometimes you want to control your overall availability, and sometimes you just want to restrict certain types of meetings. ClientRock lets you do both with a simple availability picker.

Block off your personal calendar too!

Let's face it, we often live and die by our calendars, but we also have personal calendars that should affect our availability. Have a shared calendar with your spouse? You can include that in our availability checker so that your date night is never overtaken by a client call. If it's on a calendar, we can account for it.

Give yourself some buffers

It can be hard to give up control over your calendar, so ClientRock gives you the ability to set some guidelines. You can set minimum lead time (we default to 24 hours and no weekend booking) and even add buffers before and after meetings to give you a chance to take notes, grab a snack and not get stuck in back to back to back meetings with no downtime.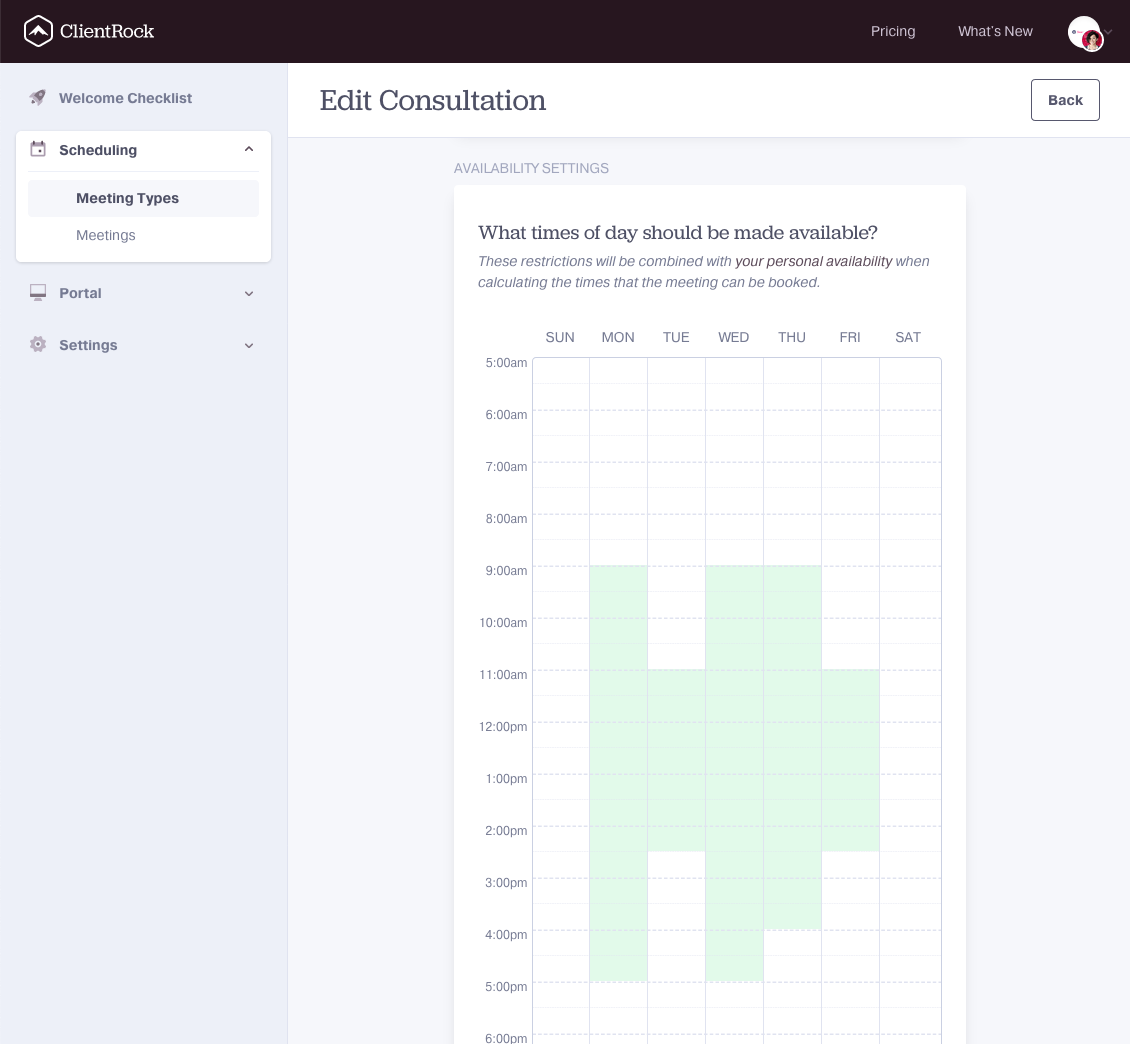 Free Forever!


Start booking online today. No credit card required.
Frequently asked questions
What calendar providers do you work with?

The ClientRock Scheduler works with all of the major cloud calendaring solutions. If you can access your calendar on your iPhone or Android, ClientRock can integrate with it.

Can I connect multiple calendars?

Of course! You can connect as many as you'd like. A typical setup might be to connect your work calendar and your personal calendar so that you can block off time without having to worry about sharing your personal calendar to your work account. That way you can block availability based on your personal scheduler and book appointments to your work account.

100% free? What's the catch?

It's always a good idea to question free. Here's how we can offer free services without going broke. At ClientRock, the Scheduler is our way of inviting you into the ClientRock ecosystem. Our bet is that once you use and love the Scheduler, you might be interested in our paid billing portal that makes generating and signing fee agreements and getting clients on auto-drafting payment plans. That's where we think we can add the most value. And if you're all set, no worries. Enjoy the free Scheduler :-)

I have other questions, how can I get them answered?

You can always reach us at help@clientrock.com.
"Online scheduling is a must for a modern firm, and ClientRock let's us book online and charge for our time using LawPay. We love it; our clients love it."
ClientRock works with the tools you already use...
Ready to dive in?

Start booking for FREE